We hope you find our free book useful starter to Paleo lifestyle.
If you want to find more about the Paleo Diet we got you covered. 
The Fat Burning Chef – Best Paleo Recipes
Fat-Burning Chef  has 150+ recipes in ten sections, including Breakfast, Snacks, Appetizers, Sides, Pork, Beef, Seafood and Poultry entrées — and tempting Desserts.
There is also an "Allergy Friendly Recipes" section so you can easily find dairy-free, egg-free, nut-free, sugar-free, raw vegan, and vegetarian recipes that work with how you eat.
There are also sections on stocking the kitchen and paleo resources created by the contributors.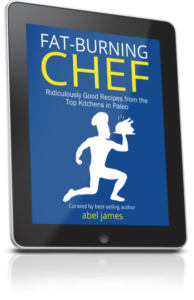 Get Your Recipes!
Robb Wolf – Paleo Guides for easy start
Robb Wolf's 30 Day Paleo Transformation is a complete guide to your first 30 days on the Paleo diet.
Featuring a 30 day meal plan, shopping lists, exercise guide with videos and more, this guide will set you on the road to success.
If you want to lose weight, feel better, have more energy, reduce inflammation and pain, or even reverse diseases like rheumatoid arthritis, ulcerative colitis, lupus, autism, diabetes, and obesity, this guide is for you.